When I moved out to Vermont from California in 2009, I wasn't super-organized (or prepared). I just sort of threw everything haphazardly into plastic storage bins. I was really excited to be leaving California, but the end of medical school had really wiped me out and I just didn't have the energy left in me to be organized about the moving process....and what it boils down to is that I wound up moving
a lot
of c-r-a-p. Crap that has been sitting in my basement virtually untouched for 3 years.
Currently, the future is starting to share frightening similarities with 2009. This coming June, after a beautiful 4 years in a beautiful state, I will once again be packing up my belongings and heading off to the (great?) state of Michigan for fellowship. And if moving across the country several times has taught me anything, it has taught me that I am far happier when I am not toting crap with me. So, since I am a super-senior resident who no longer works or takes call on the weekends, I decided it was high time to examine the state of my basement.
But first, I strapped on these...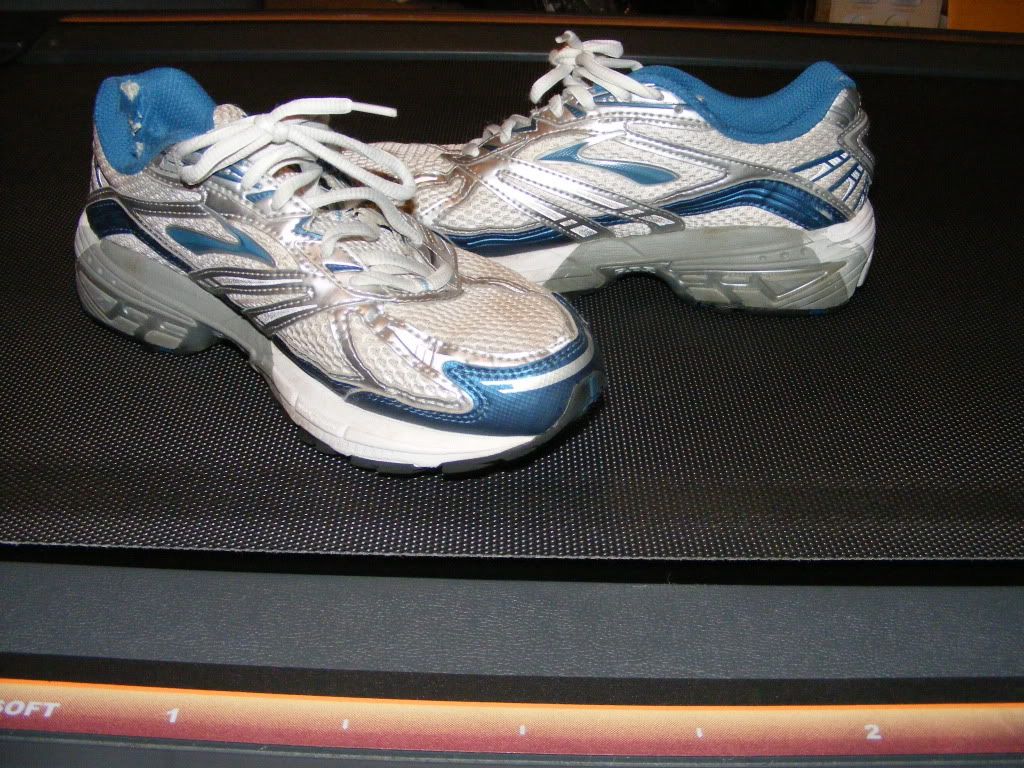 for a short and sweet little jog.
Then, I looked around the stacks of boxes in the basement (no pictures of that attached, because it's pretty embarrassing) that had never been opened in the 3 years I've been here in VT and decided that it was high time to start the cleansing process.
Lemme tell ya what - I am amazed at all the junk that got hauled across the country. Some of this stuff is legit (blankets, extra pillows) but a lot of it is not (like the non-functional cordless telephone that wouldn't work anyway because I don't have a landline). Some of it was sentimental stuff that I knew I'd kept around but just couldn't find (pictures from college) and some of it was sentimental once-upon-a-time stuff that I had no idea that I'd kept or even why I'd kept it (like a packet of letters from an old boyfriend during his tenure in bootcamp in 2003 found stuffed into a nondescript manila file folder). There were monthly statements from the Southern California Edison electric company from 2008 and bank statements from the La Loma Credit Union from 2006 that I'd never gotten around to shredding. There were receipts and pool cleaning advertisements...and...like I said - there was a lot of crap. In that moment, every episode of "Hoarders" that I've ever watched flashed before my eyes and I decided it was time to take charge and tackle a few of the bins. Turns out, the ones that I peeked into all dealt with medical school (not a shocker since my 20's have essentially been eaten up by the medical profession).
Like this stack of books. Once upon a time, I knew them all by heart. Now, I haven't used most of them in at least 6 years and I'll be damned if I'm taking them with me yet again.
...and this stack of papers, all of which represent some of the notes from the 1st and 2nd year of medical school. Surprisingly, this isn't even the entire set of notes - I'm sure the rest will crop up later in a box where they clearly do not belong thanks to my mad organizational skills.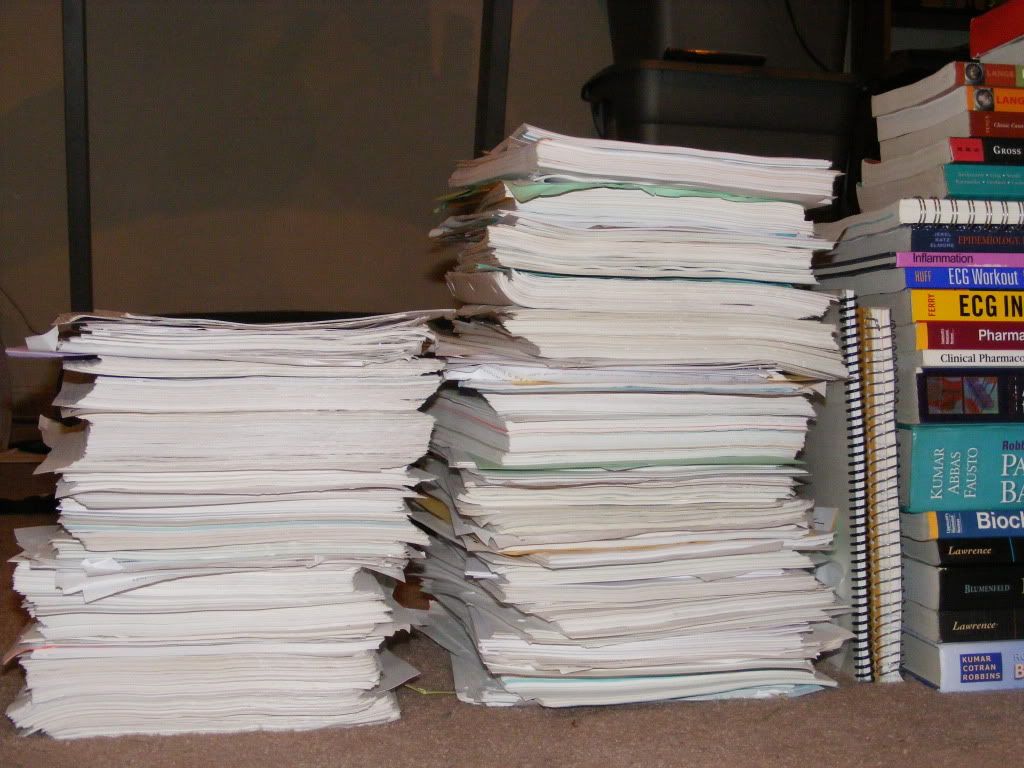 I found good things...like my pricey, not-used-in-more-than-3-years medical instruments (minus my stethoscope, which I am sure is lost for permanent)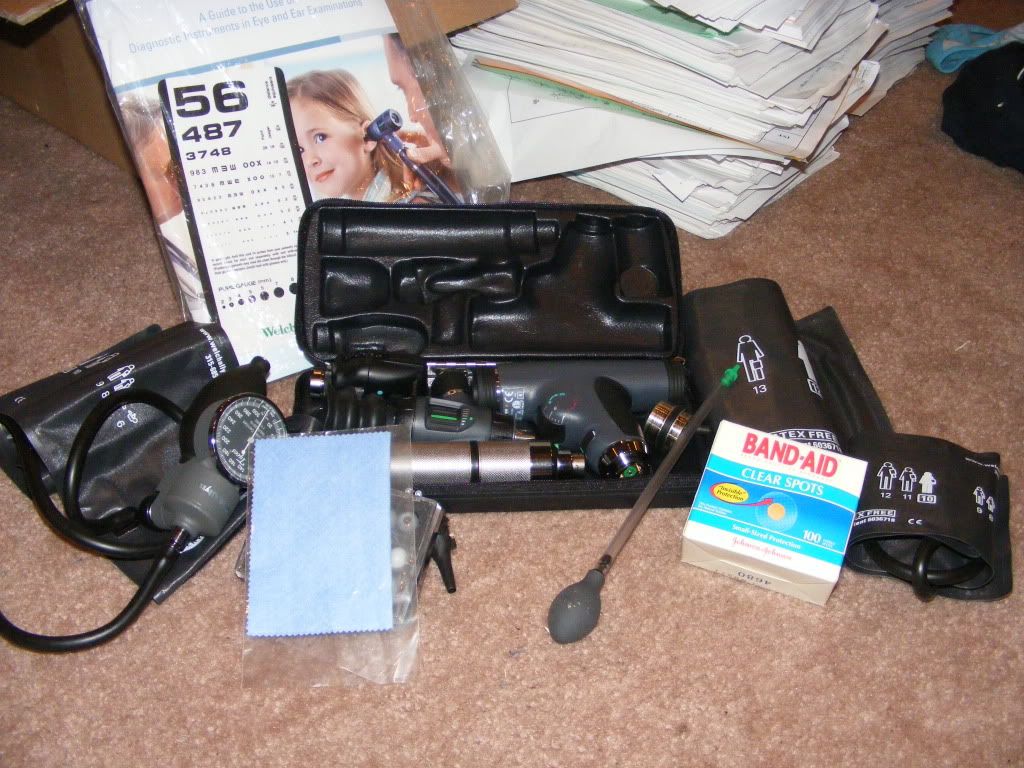 I found useless things...like a whole box full of the purple envelopes of nauseousness (grades that were passed out into student mailboxes after every exam). I kept them in case a score ever was in doubt or didn't get recorded, but since I graduated 3 years ago I'm pretty sure they can go.
I found bad things...like an empty bottle of antibiotic which I required when some snotty little child passed on a nasty bacterial pink-eye to me during pediatrics (which is also when I picked up honest to goodness pneumonia as well, but that's another story for another day).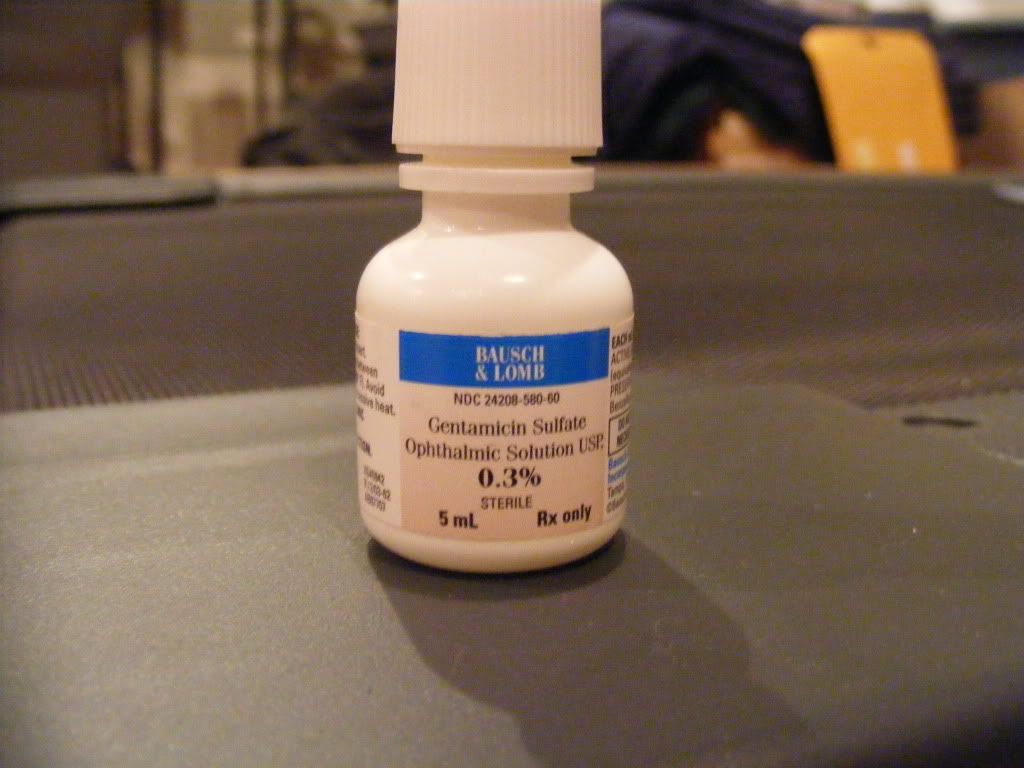 And then I found just plain ugly and disgusting things...like the zippered plastic kit containing the instruments which I used to dissect cadavers during Gross Anatomy in the fall of 2005. (Please note: since I am a pathologist, it is almost impossible for me not to try and put items against a solid color background before a photo).
I found uplifting mementos...like this grading sheet from a standardized patient exam which pretty much proves that even pathologists can interact meaningfully with patients.
And then, I pitched most of these items into garbage bins (I'm still not entirely sure what to do about my dissecting kit although I am certain it does not need to accompany me on my Michigan adventures - and the voracious reader in me cries in horror at the thought of throwing away
any
kind of book...) I got tired of cleaning.
So if you know of anyone who might need a used dissection kit or medical books that are several editions out and fairly worn - let me know.